User Interface (UI) is a tool for users to interact with websites and software. While quality content on a website is important, UI design skills are equally crucial for attracting more users. UI (User Interface) allows users to interact with various systems, and the more focus there is on UI design, the higher user satisfaction becomes. Additionally, Google recognizes websites with good UI design. Given the importance of UI fundamentals and skills, we help you establish better communication with your audience.
Learn more about UI design!
User Interface (UI) design is of great importance and contributes to user attraction and retention. No matter how useful and effective your website is, with a weak UI design, it may fail to satisfy users and keep them engaged. This is why having a solid understanding of UI fundamentals, including design principles, graphics, user needs, and more, is essential for UI designers.
It's important to note that a UI designer is different from a graphic designer. UI design starts with wireframes that lack visual flair, whereas graphic design deals with aesthetics, utilizing colors and images. UI designers focus on the placement of elements, error handling, and button placement, while graphic designers enhance the visual appeal. So, the distinction lies in simplification and beautification as essential UI and graphic design skills.
UI Designer Skills:
As a professional UI designer, you need to acquire the necessary skills. Proficiency in at least one of the popular UI design tools such as Figma, Adobe XD, Sketch, or similar software is crucial. Additionally, familiarity with prototyping tools like InVision can be beneficial. These tools are the primary means by which a UI designer creates their designs.
A UI designer should be well-versed in the fundamental principles of UI design, including color theory, UI design patterns, typography, and understanding of user behavior. Strong UI design skills also involve adhering to usability principles and user-centered design (UCD) principles. This enables deep analysis of user behavior and preferences. Strong interpersonal skills are essential for a UI designer to comprehend and cater to the customer's mindset and vision. Working with wireframes provided by UX designers is also a part of the job.
Fundamentals of UI for Outstanding User Interface Design:
A solid understanding of UI fundamentals is crucial for designing web interfaces that excel. Website design goes beyond just visual aesthetics; it's about creating user-friendly spaces that cater to the needs of the users. A well-designed website should be functional and aligned with its intended purpose. Even a simple website can achieve remarkable success on Google if it's designed with care.
Your website represents your business, and potential customers often explore it before any direct interaction. Therefore, adhering to design principles and standards is crucial. You must design web pages that effectively cater to user needs, converting visitors into customers. With this in mind, familiarity with the essential UI skills becomes highly important. By creating appealing and engaging designs, you can establish a user-friendly space that turns visitors into customers.
In conclusion, UI design is a critical element in user satisfaction and engagement. A website with strong UI design principles can significantly impact user behavior and help businesses achieve their goals. Understanding the fundamentals of UI design is essential for creating compelling and user-centric web interfaces.
The most straightforward design is often the best design: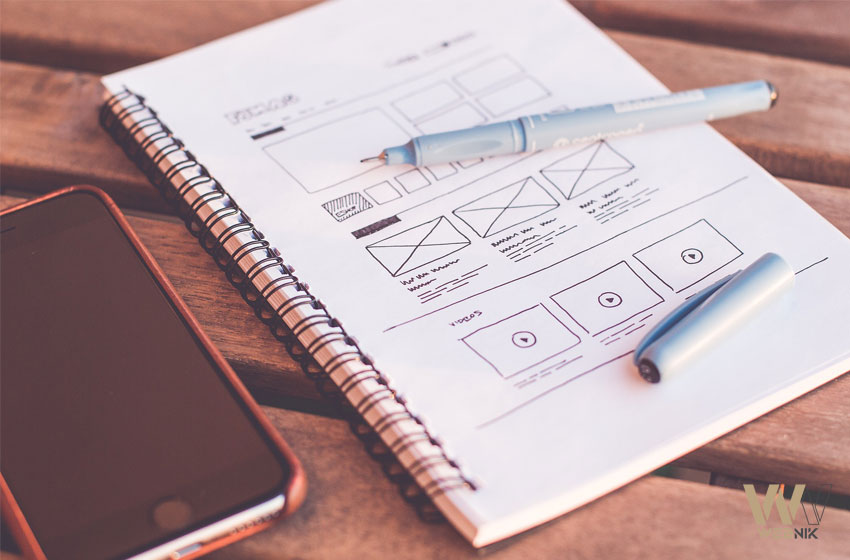 Emphasizing the principle of simplicity is of utmost importance. Otherwise, visitors may be distracted from the main purpose of your website. Avoid overusing elements in your website's space. Instead, having a clean and lively design can enhance the attractiveness of your website and help users navigate seamlessly from one page to another. Simplicity in web design is a professional and effective way to attract your audience, and it's considered one of the fundamental skills in UI design. This way, visitors can easily feel the simplicity and comfort of your website and find their desired path effortlessly.
Maintain Consistency in Your Design:
In website design, maintaining consistency in the use of basic UI skills is crucial. Your website's pages should be consistent in terms of headings, subheadings, sizes, fonts, and more. With proper planning, choose appropriate fonts and colors for each section, and then apply them consistently to all similar elements. This ensures uniformity in text, buttons, and other site elements, preventing clutter and contributing to an easy and comfortable user interface. To maintain complete information about design elements and styles, the use of SCSS, CSS, or SASS can be effective.
Ensure Mobile Compatibility for Your Web Page:
One of the fundamental UI skills is ensuring that your website is compatible with various screen sizes. Today, people use not only computers but also mobile phones and tablets for web browsing. If your website design is not responsive to different screens, the chances of failure against competitors increase. Therefore, making sure your site is mobile-friendly is crucial.
Use a Well-Planned Color Palette and Appropriate Images:
A weak color combination can distract users. Using an appropriate color palette can capture the user's attention. One of the basic UI skills is creating a visually appealing space on your website. This way, you can increase your website's appeal and have a positive impact on visitors. Your website design should be visually pleasing and user-friendly. Use images that are suitable for your site's content. Avoid creating clutter in the web space by using white space effectively. Also, by using a limited color palette, you can create an attractive and clear design. So, there's no need to use an excessive number of colors and crowded images to attract your audience.
Ensure Easy Navigation:
If your website has easy navigation, visitors are more likely to stay. Simplifying user navigation through logical and hierarchical page design and using breadcrumbs is one of the basic UI skills. The three-click rule also plays a role in ensuring easy website navigation. Users should be able to find the information they need with just three clicks.
Engage with Your Audience:
Website visitors want to access the information they need. Therefore, if you establish effective communication with your site's visitors, they are more likely to stay and may return in the future. Given this, we recommend considering SEO principles as one of the fundamental UI skills. This way, you can connect with your audience more effectively.
Designing the best user interface using four top tools:
Designing the best user interface (UI) using fundamental UI design skills involves using the right tools. Here are four of the best UI design tools that can help you execute basic UI skills effectively:
Sketch: Sketch is one of the most widely used UI design tools for creating professional prototypes and interfaces. It is considered one of the best tools for executing basic UI skills. Sketch is exclusively available for macOS. Working with Sketch is often easier compared to Photoshop, which can lead to faster and higher-quality design outcomes. Additionally, Sketch is vector-based, ensuring image quality and clarity, and it provides one year of free updates upon purchase.

Axure RP: Anyone familiar with basic UI skills is likely acquainted with Axure RP, a versatile software used for creating wireframes and customer journey maps. It can also be helpful in generating initial versions and user interfaces for websites or applications. Axure is compatible with Sketch and can be used in team projects as well.

Figma: Figma is a versatile tool that can be used on various operating systems such as macOS, Windows, and Unix. It allows for online collaboration and editing, making it suitable for team-based projects. Figma also offers both free and paid versions.

Adobe XD: After becoming familiar with basic UI skills, you can install Adobe XD on macOS or Windows. Adobe XD is known for its user-friendly and straightforward interface design capabilities. It provides a convenient toolset for website design and offers the ability to create professional prototypes without requiring extensive hardware resources.
In conclusion, now that you are familiar with fundamental UI skills, you can use these tools as a designer to create practical and useful websites. A user-friendly and easy-to-navigate user experience is effective in attracting and retaining users, increasing their time spent on your site. Therefore, it is recommended to create a simple, comfortable, and user-centric space for presenting your services or products.